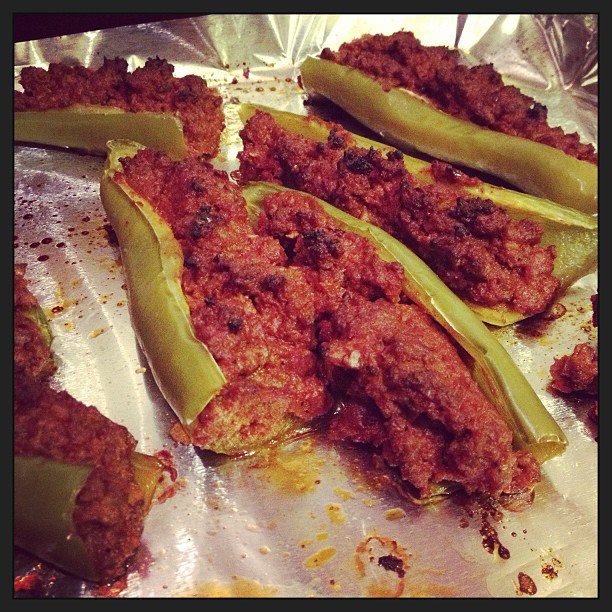 Sometimes, only spicy will do. Earlier this week, such was the case at the House of Hyra (otherwise known as Casa de Kindra). The solution? Matt whipped up some of the most delicious beef stuffed peppers ever sampled by man or beast. (Ok, so we didn't endeavor to test that, but we're pretty sure it's true). This photo was originally posted to Facebook and since many of you asked, here is the recipe.
A couple of notes: Due to Kindra's food allergies, olive oil, coconut oil, and cumin are off the menu. The addition of cumin to the spice mixture used here would be delectable, and it would be totally acceptable to substitute either EVOO or coconut oil for the butter should you desire.
6 large Anaheim peppers (you could use poblanos, too… a little hotter, but any large pepper would work)
1.5 lbs ground organic, grass-fed beef
1 yellow onion, chopped fine
4 garlic cloves, chopped fine
1 can tomato paste
1 can diced green chiles (Old El Paso fire roasted….yum)
2 Tbls hot sauce (I used Tapatio)
1 Tbls garlic powder
1 Tbls chili powder (use more depending on taste, I used 1)
1-4 tsp of crushed red pepper (I used 2)
2 tsp of Kosher salt
2 tsp pepper
2 Tbls butter
Blitz the onion and garlic together in a food processor, or chop by hand. Place in iron skillet with butter and sauté until softened, about five minutes. Add meat and brown with onion and garlic. When well browned, add everything except the Anaheim peppers. Let this heat all the way through, about five minutes, to ensure the flavors blend well.
While meat mixture is cooking, split the Anaheim lengthwise and seed them.
Once the meat is done, allow to cool about five minutes. It's just too damn hot otherwise. Generously spoon meat mixture into pepper halves. Place on baking dish or pan covered with foil, and bake at 350 for 30 minutes. Peppers should be cooked enough at that point.