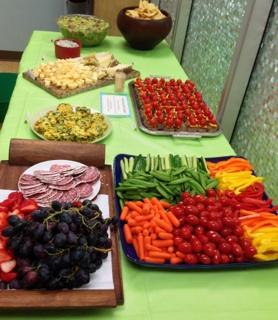 Thank you to everyone who joined us last Saturday for AIM's annual open house and 2nd birthday party. The catered desserts from Clover Sweets & Pastries were to die for and we can't recommend them highly enough if you are thinking of supplying sweet treats for any upcoming event or occasion. Find them on Facebook by name, or give them a ring at (425) 890-0769. We were honored, however, that our homemade appetizers disappeared just as quickly as the flourless chocolate cake. (Oh ok, ALMOST as quickly…)
At the request of several attendees, it is our privilege to share the recipes (as well as some words about their history) for the dishes we prepared by hand: Dr. Brooke's Frisbee Guacamole, Papa Rentz's Salmon Spread, Kindra's "Austin" meatballs, Jessica's Quiche Cups, and Kelly's Spinach Dip. The meatballs and quiche cups are delicious on their own. Serve the salmon spread, guacamole, and spinach dip with an assortment of chopped vegetables, corn chips, and crackers as you like.
Dr. Brooke's Frisbee Guacamole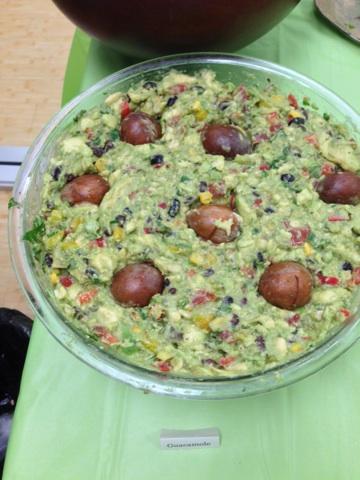 It all started my first year at Bastyr. We decided to have a pot luck at my house with my roommates and a few other people. If you know me, you know I am an "all-in" type of person, the same goes for my food. I started making guacamole; I added avocado, lime, cilantro and jalapeno. Then I started looking through my cabinets and poof….Frisbee Guacamole was invented. Why the Frisbee you ask? Well, being a bunch of transplants from all over the country we did not have a lot of dishes and serving plates. So after making a huge vat of guacamole I had nothing to put it in because we needed the bowl for something else. What we did have was a lot of Frisbees! So, after a thorough washing, the Frisbee made the perfect serving bowl, it even had a lip on the side for scooping! So, enjoy this delicious concoction that is great as a side dish or even as a complete meal, depending on how loaded you make it.
4 large avocados
½ can black beans drained and rinsed
½ to 1 cup corn (frozen or canned)
½ can olives
½ jalapeno
½ cup scallions
1 whole bell pepper
1 large tomato
Cilantro to taste
Salt and pepper to taste
Lime juice to taste
Chop all ingredients to be about the size of a black bean. I like when things match! Mix in avocado until all ingredients are smooth. Taste, Taste, Taste! Can always add more lime juice, cilantro, salt and pepper at the end and can add your favorite hot sauce if need more spice.
Hint: Did you know that if you leave the seed of the avocado in your guacamole it won't turn brown!
Papa Tommy Rentz's "Best-Ever" Salmon Spread
2lbs cooked/smoked salmon (Sockeye is Best!) cold
1-2Pkgs Cream Cheese
2T sweet pickle relish
1T prepared yellow mustard
¼ tsp Italian herb seasoning
1/8tsp chef Paul Prudhomme's seafood magic seasoning
Dash paprika
Parsley sprigs
Crumble salmon in large bowl, stir in cream cheese, relish, mustard
Add herbs and seasoning, stir thoroughly
Note: if spread seems too dry, add additional relish and cream cheese, 1T at a time
Present in serving bowl and add paprika and parsley
The Story Behind the Spread:
My name is Tom Rentz (Jashar's dad), and my wife Mary Lou and I have been enjoying the salmon in Alaska for about 40 years. We love to barbeque a large filet, enjoy a great salmon dinner and still have plenty of salmon left to make a spread for the next day. It makes amazing sandwiches!
Alaska is the only state where non-natives can not only fish, but can also do subsistence dip netting for these fish. We can harvest 35 salmon this way (25 for the head-of-household, 10 more for each family member.) Not only is it fun to do, but that much great salmon really cuts back on food costs and is very healthy as well. Can't lose in a setting like that! I hope you enjoy the spread, and I encourage you to change the mix any way you want to create your own favorite!
Looking to brine your fish? Check out the bonus recipe from Tom, below.
Smoked Fish Brine
(Jeanie Lindley recipe; ie: grandma Jeanie, Carson's mom who was dad's best friend in Ketchikan, AK)
½ c soy sauce
2 c molasses ( 1 sm. Jar)
1 c salt non-iodized
2T garlic powder
2T onion powder
4c brown sugar
3T liquid smoke
2T crushed red pepper
1/4tsp Dave's insanity
Cut fish approx. 2"x4" and soak in brine 10-12 hrs. or overnight. Let fish air dry I cool place 24-36hrs. (8-12hrs with a fan) Smoke fish to desired dryness about 16-24hrs.
Kindra's "Austin" Meatballs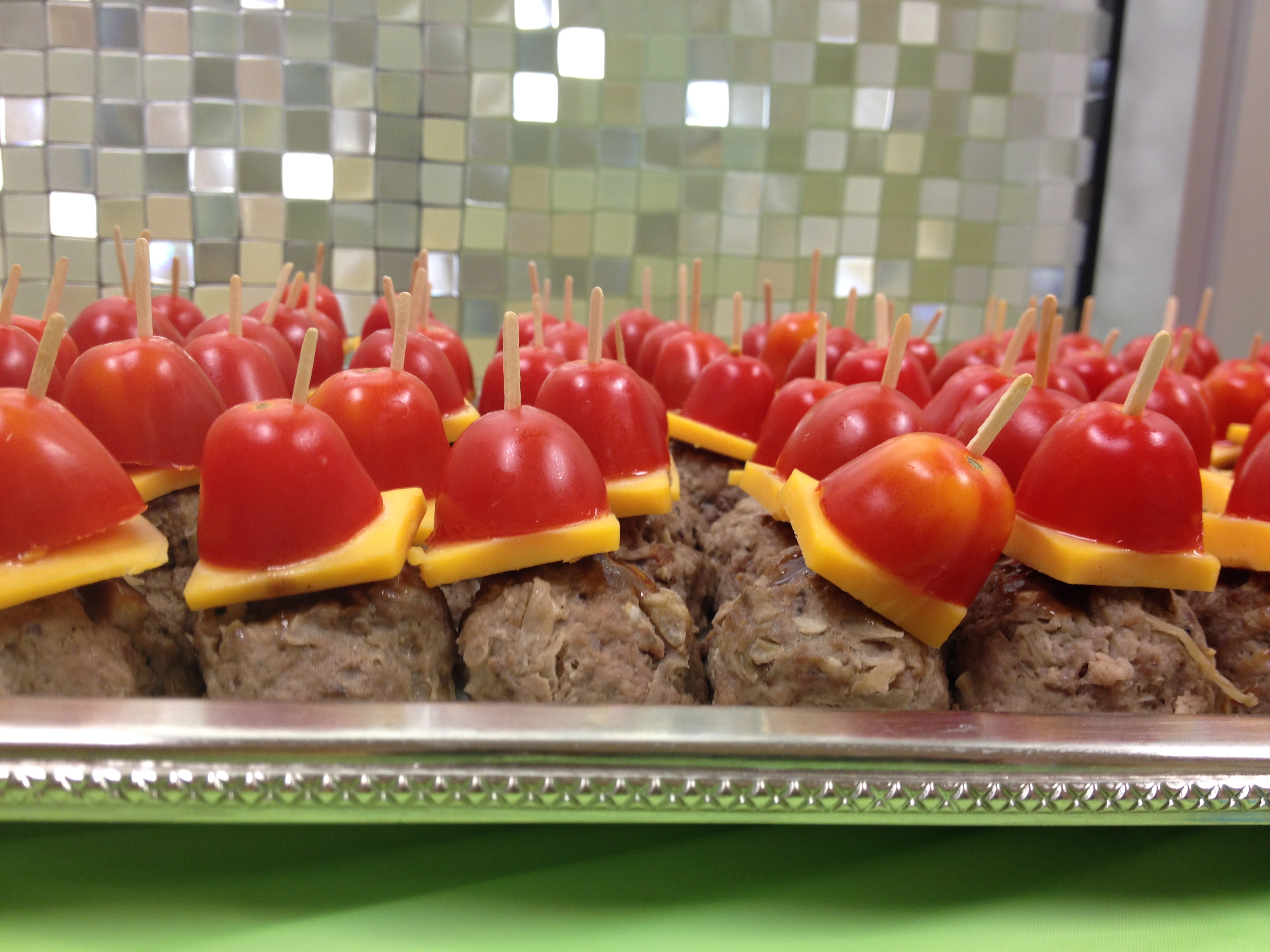 Kindra's "Austin" meatballs are really just miniature versions of her Austin Burger, recipe originally created to keep a hungry body builder sated and published on our blog, here:
http://alpineintegratedmedicineblog.wordpress.com/2013/08/13/the-austin-burger-whats-kindra-cooking/
To prepare this dish as meatballs instead, she omitted the egg and then shaped the beef into one-inch pieces. They baked in a 350 degree oven for approximately 20 minutes, after which she allowed them to cool before topping them with a dot of gluten free BBQ sauce, a slice of cheddar cheese, and half a cherry tomato, all held together by a toothpick. Voila!
Jessica's Veggie Quiche Cups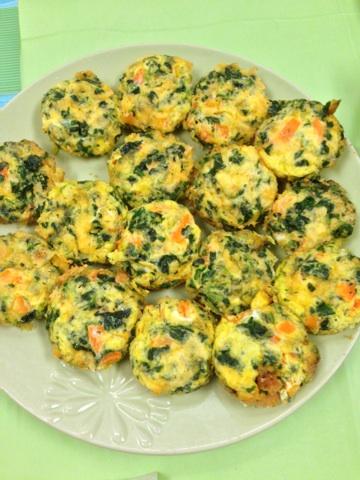 Another staff variation on a recipe that we've previously published, for her contribution to our open house Jessica modified the original South Beach Veggie Quiche Cups To Go. In place of egg substitute, Jess used real eggs. She also omitted the onion on account of office allergies. We think she definitely improved upon them.
Remember that this recipe is an excellent base. Our clients have used combinations including feta cheese and olives, bacon and cheddar, apple sausage and sweet potato, jalapeno and swiss, broccoli and cheese, and a vast array of others in order to make this dish their own. To see the original formula, click here:
http://alpineintegratedmedicineblog.wordpress.com/2012/10/12/veggie-quiche-cups-to-go-a-make-ahead-protein-packed-way-to-begin-your-day/
Kelly's Spinach Dip
1 package of Knorrs vegetable mix
1 cup nonfat plain Greek yogurt
1 package frozen chopped spinach, cooked, cooled and squeezed dry (you could probably use fresh cooked spinach if you wanted)
1 container light sour cream (can use less if desired)
1 can water chestnuts drained/chopped
2 green onions chopped
Combine all ingredients and chill in the fridge for about two hours. Hide this from yourself until party guests arrived. This bowl was empty before we could utter, "Welcome to our open house. Please help yourself.."
We hope that these recipes serve you and your family well, that you enjoy them, and that we see you next year for birthday party #3.