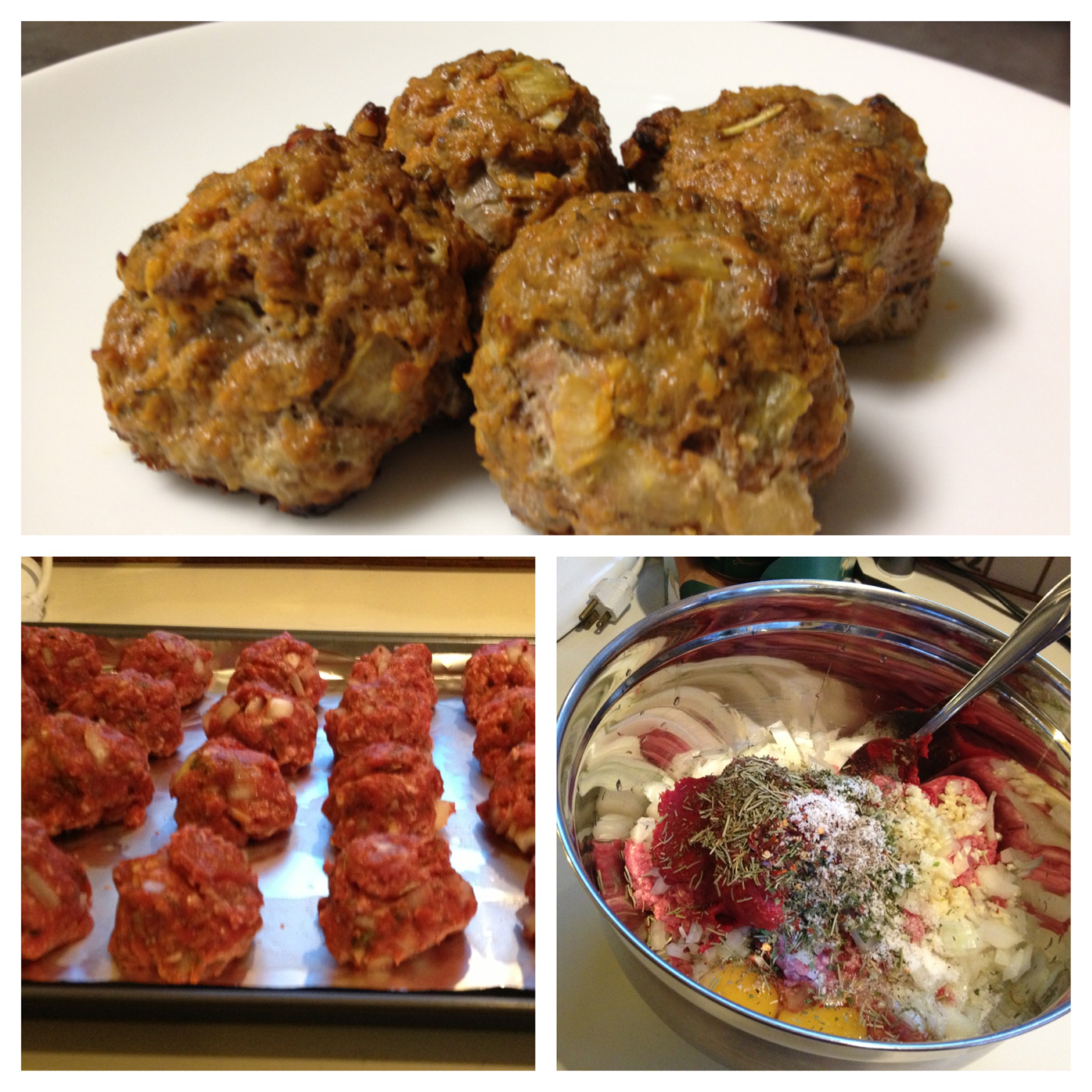 Anyone who has met our resident Paleo princess knows that she is nearly always hungry — so if you can't find her in the gym, check the kitchen. When last night found her with a hankering for somethin' savory, these Italian Meatballs had her both sated and humming a little Rosemary Clooney (All you calabraise-a do the mambo like a crazy with a
Hey mambo, Mambo Italiano…).
One note: On account of Kindra's food allergies, basil is a no-go. Rosemary fills the void nicely in this recipe, but if you can eat basil without consequences, the addition of 2t would be de-lish.
Italian "Hey Mambo" Meatballs:
2 lb ground organic, grass-fed beef
1 sweet onion, chopped fine
4-5 cloves garlic, chopped fine
2 whole eggs
1 (6 ounce) can organic tomato paste
2t dried parsley
2t dried crused rosemary
2t thyme
1t crushed red pepper flakes (in retrospect, Kindra would have doubled this for more "zing.")
2T potato starch (again, an allergy issue. Almond flour would be more paleo-friendly.)
Mix all ingredients in a medium-sized bowl using your hands. Once thoroughly combined, shape into meatballs using between 2 and 3 Tablespoons of meat mixture per meatball. Bake at 425 degrees until no longer pink in the center, approximately 25-30 minutes. Makes approximately 28 meatballs. Kindra suggests busting some mambo moves while these babies bake to perfection. Unlike the meatballs, her dance moves were reportedly poorly executed, involving an unfortunate combination of pink fuzzy socks and a tiled kitchen floor…