Come In, Get Treated, Get Back to Life
Nutritional IV Therapy at AIM
IV Therapy at AIM is your best option for IV Therapy on the Eastside.
Relax in a contemporary, calming, and clean environment while we quickly rejuvenate you with IV fluids, vitamins and medications, fully customized as needed.  IVs are a wonderful part of an integrative and proactive health and wellness regimen, and treatment times average about an hour.
You may have heard of the AIM's IV Program that was featured on King 5's Evening Magazine last year, when their crew came in to experience the benefits of IV Hydration.  Hydration IVs are a wonderful and safe way to help with jet-lag after a long business trip, before a weekend event, or even to help with a long party night.  But IV goes so much deeper than just hydration.
My experience with the Meyer's Cocktail IV therapy has been excellent. I find it a wonderful option for preventative care and maintaining health during the winter months or in shortening the healing process when illness becomes unavoidable. There have been times over the past couple of years when starting to feel lousy, I came in for a Meyer's cocktail knowing I couldn't afford ill health. After receiving this vitamin therapy I felt an increase in my energy within a day and my ailment improved and went away within 24 to 48 hours. I highly recommend this therapy to anyone who wishes to maintain their health during the winter season or who desires a quick way to heal themselves from an impending illness and to do so in a healthful way.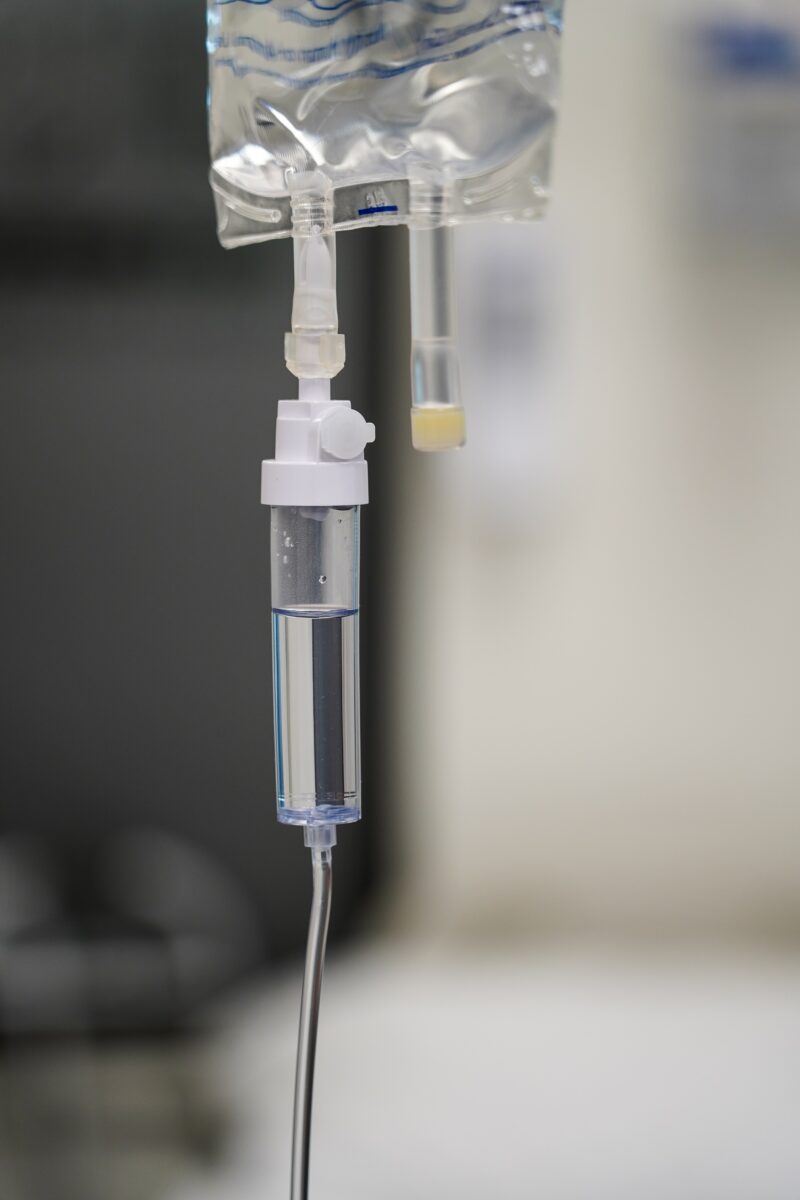 Why would I want an IV Infusion?
Nutritional, Hydration, and Vitamin IV Infusions are wonderful aspects of holistic, integrative, and preventative health care. IV is gaining in popularity here in Washington, and all over the country, because IV Infusions produce incredible results for some very common issues. Below are some typical reasons you might swing in to our medical clinic for a quick visit, but there are other uses that our specialists can tell you about in a consultation. Give us a call to learn more!
Advanced Medical Therapies
Medical Support with IV Therapy
IV Therapy is useful for a variety of medical conditions, from Iron Deficiency to Oncology Support. Reach out to us to discuss all the medical applications for IV Therapy. If you are provider who would like a custom IV formulation for your patients, please see our Professional Referral Page.
Athletic Performance
Optimize your Performance Safely, Naturally, and Legally with IV Therapy
Optimize your athletic performance with specially formulated hydration and vitamin boosted drips. Recover faster, work out harder and longer, and optimize your performance before a big event. Make sure to discuss your training goals with your AIM physician, and ensure that you get a personalized edge in your training.
Cold and Flu
Viral Illness
IV Vitamin Therapy can be great for the prevention of illness and as a way to ameliorate the symptoms of illness. While there is no "cure" for the common cold, an IV from AIM can help you with the symptoms, and help shorten the duration. If its cold and flu season, it's probably time for a drip.
Jet Lag, Hangover, or Feeling Sluggish
Supercharged Hydration
Come in feeling like a 2 and leave feeling like an 8! Hydration is the foundation of so much of what we do. Need a boost before a big meeting or after a long night entertaining clients that got a little carried away? Do you need to recover from jet lag before a big event? Just want to get your body ready for the weekend get-a-way? It's okay…we have an IV for that.
Metabolism and Promoting Weight Loss
Get an edge by boosting your metabolism!
This custom formulation promotes healthy metabolic function and stimulates weight loss in the body. This is a perfect compliment to your weight loss and fitness routine, and it's super healthy.
Pain Relief
Injections for Joint and Muscle Pain
Suffering from joint or muscle pain? Injection Therapies are cost effective and have surprisingly great results. Talk to our doctors for more information.
IV Therapy Menu & Pricing
IV Therapy can be a little confusing, because its quite complex. While some IV Rooms use only pre-made bags with low potency, AIM and other high quality IV rooms make IV bags on site, often using custom formulations. IVs have different components, and different potencies. This leads to a wide range of cost for different IVs. What's more, the cost of the components of the IVs change constantly, and have been increasing lately.
Nutritional IV Therapy is not covered by insurance, and is therefore paid for by the patient at time of service. To try to keep things as simple as possible, IV Director Dr. Greg Robertson has framed our IV menu in terms of "Tiers". The higher the tier, the more costly the IV, and the more drip time needed.
For example, a Tier 1 Myers Push would take only a few minutes, but a Tier 2 Myers Cocktail IV (similar formulation with greater potency) would take 30-60 minutes for the entire IV. Similarly, the Tier 1 Myers Push would be less costly than the Tier 2 Myers Cocktail IV.
When you call to book an IV as a new patient, our front desk will ask you a couple of questions to determine what IV is right for you, and during your initial visit, the doctor will do a complete intake, and discuss the optimal IV formulation for your needs. For return patients, we'll get you right to the IV. The intake is billable to your insurance, or can be paid in cash at time of service.
Below is a menu of some of our most popular IV Formulations.  It can help you to decide which IV is right for you.