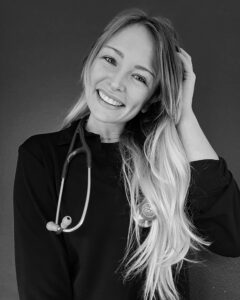 Meet Dr. Elle Lee ND
Naturopathic Physician
Fitness & Pain Management
Hello! I'm Elle, and I'm excited to introduce myself as this year's first-year resident at Alpine
Integrated Medicine. In my residency, I will be working closely with all the providers at AIM, but
mostly with Dr. Brooke Azie-Rentz and Dr. Greg Robertson.

I am a local to the Pacific Northwest growing up here and completing my undergraduate degree
in Behavioral Neuroscience at Western Washington University. In 2019, I moved to Portland,
Oregon, and completed medical school at National University of Naturopathic Medicine
(NUNM).

At NUNM I was trained as primary care physician and I'm eager to build on this foundation in my
role at AIM. I have a keen interest in assisting patients with musculoskeletal and chronic pain
conditions, as well as focusing on sports medicine and enhancing athletic performance.
As a true Pacific Northwest native, I thrive in outdoor pursuits such as hiking, running, triathlons,
camping, mountain biking, surfing, climbing, snowshoeing, and cross-country skiing—always
with the promise of a good snack and coffee at the finish line.

During my downtime, I indulge my creative side with cooking, baking, and various art forms. My
home life is enriched by my loyal 6-year-old husky companion and my partner, Kasper. I'm
genuinely looking forward to meeting you and working together to achieve all your health and
life goals!