By Nichole Santoro, LAc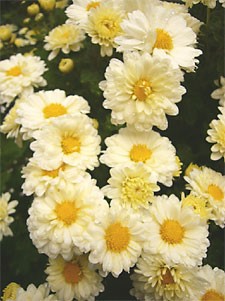 Chrysanthemum flower (or Ju Hua) has been used by the Chinese as a medicinal herb in teas for over 3,000 years. It is cooling, fragrant and light and can be used in the early stage of a common cold with fever, headache and red eyes. It is also useful to cool the blood and bring down blood pressure, calm dizziness and soothe red and swollen eyes.
The benefits of long-term consumption of Chrysanthemum tea have been recognized throughout the history of Chinese medicine. It is said to prevent aging if drunken regularly.
Tea may be made from Ju Hua alone, or with the addition of other herbs. Probably the most common combination is with Gou Qi Zi (Chinese Wolfberry), which nourishes the Liver and Kidney yin, benefits the essence and brightens the eyes. Together, Ju Hua and Gou Qi Zi make a tasty tea that treats dizziness, eyestrain, improves vision, and soothes the eyes. In a cup, add hot water to about 5 grams of Ju Hua, and 5 grams of Gou Qi Zi. Cover and steep for five or more minutes. The tea is visually beautiful and tastes nice as well. Enjoy daily!