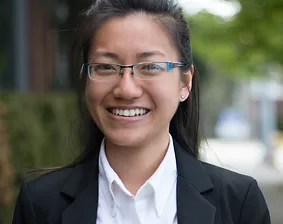 Meet Dr. Evelyn Le, ND
Resident Naturopathic Physician
Hello, my name is Dr. Evelyn Le. I am looking forward to becoming part of the AIM community during my naturopathic residency at Alpine Integrated Medicine. You may have already met me as I've been ardently shadowing Dr. Brooke, and getting up to speed at the clinic!
​
I am passionate about health and wellness, which is what led me to complete my Doctorate of Naturopathic Medicine training at Bastyr University, and my Master of Public Health at the University of Washington. Moreover, I received advanced training in craniosacral therapy, biofeedback, mind, body medicine, gastrointestinal, endocrine, and oncology. So with me you get someone who is trained both on your personal health and the overall health of our society.
​
I am from Houston, TX and earned a Bachelor of Science at Baylor University, with a Biochemistry major, Medical Humanity minor, and completion of an honors thesis on the topic of the synthesis of anti-cancer agents.
​
Besides work, I am an aunt to my adorable nephew and niece, a daughter to my wonderful parents, and a devoted granddaughter to my dear grandpa. I love to create meaningful memories with friends and family her in the Pacific Northwest and more importantly, I'm looking forward to working with you!
​
I am passionate about working with patients willing to seek out and challenge the root cause of their illness. It takes work and focus to heal and to be physically and psychologically well. The integrative health model allows you and I to proceed with better decision-making, evidence-based research, and many other alternative options.
My commitment to you is to bring the best care possible and be a trustworthy resource for you. Let's walk this health journey together.