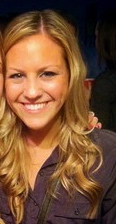 If you've been to the clinic recently, you have likely had a chance to meet the newest member of team AIM, Kelly Montgomery.
Kelly is a recent graduate of Washington State University where she received a degree in journalism and political science. Born and raised in Redmond, and with her entire family living within a 10-mile radius, she knew she wanted to stay close to home and started working at AIM immediately after graduation. Before coming to the clinic each day, she ventures into Seattle where she interns as an editorial assistant at Seattle Magazine.
Kelly has played basketball her whole life and has recently started helping with the freshman team at Eastlake High School, her alma mater. In her spare time she enjoys freelance writing, spending time with her 2 and 4 year old cousins, drinking blue moon and watching either The West Wing or Frasier (yes, she is 22 years old).
We love having Kelly in the clinic and at the front desk, and we know that you will too!