Planning a trip to Portland any time soon? Maybe you should! In this month's staff feature, we invite you to get to know our medical assistant Jessica by reading about a recent trip she shared with her daughters. Food trucks and acres of books? It sounds like the trip was "just right" for this goldilocks and her wee bears.
Three Larsen Girls go to Portland
This past weekend, I took my two daughters ("Pupling", 9 and "Cheesy", 7)  to Portland, Oregon.  It was "Pupling's" birthday trip, as she will be 10 in a few weeks.  The planning started about 2 weeks ago.  I was pondering taking the train into Portland, so we could all relax. But the real hang up was the hotel. "Pupling" had one requirement: the hotel had to have an indoor pool. I found a hotel in Janzen Beach that was perfect and fit in my budget. I booked it and decided we would drive down instead of taking the train so we could leisurely go to and from the hotel.
We left Saturday morning at 8:30 on the dot and got into Portland at 11:30 on the dot (exactly 3 hours from Redmond to Portland)!  As we crossed the Columbia River, I noticed that Portland/Northern Oregon is the land of bridges, with at least seven being memorable from the entire trip.  We went straight into town, parked our car in a garage (that said it was free with validation) and walked over to Pioneer Place, a mall that is mostly under the city.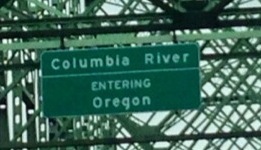 We were all very hungry, so we found a sushi place in the mall and had our first Portland feast.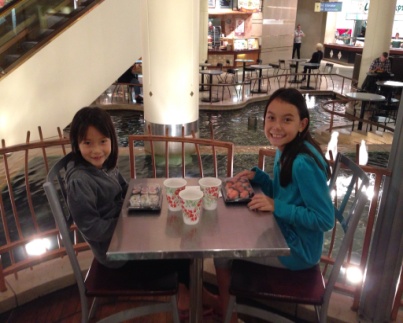 With full tummies and my daughters armed with $45 dollars each (their own saved money), we headed out to shop (till this mom dropped).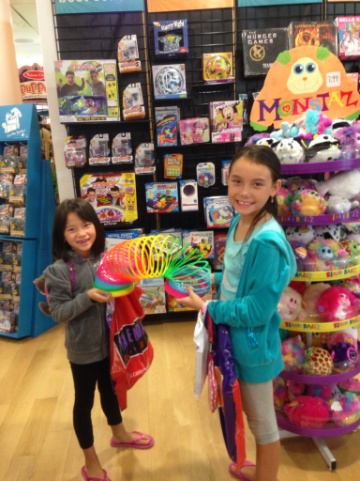 After shopping for what seemed like hours (well it was 5 hours we were there), we went to get some grub from Joe's Burgers.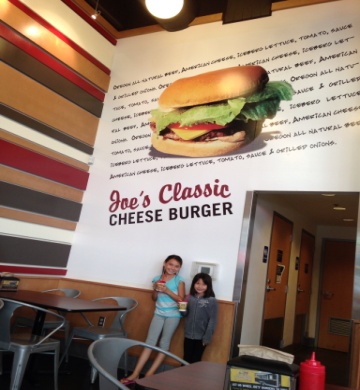 Our hotel was a little difficult to get to, with lots of confusion and turnarounds, but once we arrived we were greeted with friendly faces and comfy beds!  We were in our room all of 15 minutes before "Pupling" was in her swimsuit, itching to get to the pool. It was a smaller pool but was warm and we had it all to ourselves.  We jumped, swam, splashed and had the best, rowdiest time together.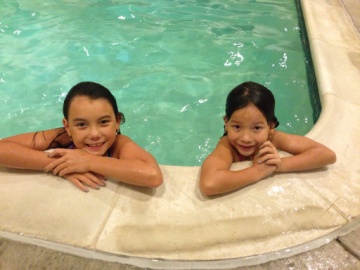 After having a great time at the pool we headed back to our room, showered and got our PJs on.  I called down to the front desk to ask where the nearest grocery store was.  We headed out to get sandwich materials, veggies and snacks.
Day two of our trip, we started out just being lazy and watching some football (the girly comments would have not been tolerated in anyone else's presence) and after our beloved Cowboy's lost their game, we curled our hair and headed back to town.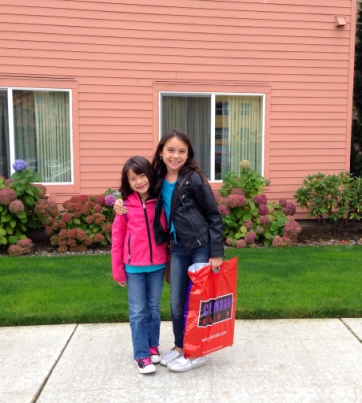 We parked and walked from the Pearl District to downtown, looking at all the food carts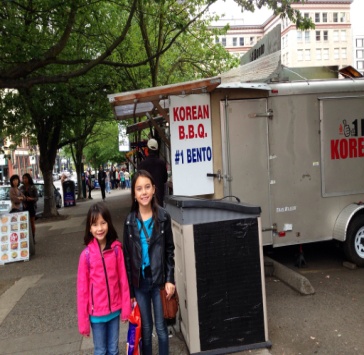 As we shopped a little more (you can never do too much shopping).  This time we made sure to hit up the famous Powell's City of Books, which is where I got the title of this post.  "Pupling" is my little bookworm, so this is her Mecca!  "Cheesy" was in heaven with the non-fiction books and was spouting out facts left and right.
After another long day of walking and shopping, we decided we wanted Thai food for dinner (this mom's favorite meal). Before heading back to the hotel, we ventured back into Washington for the only Thai restaurant that was open late on a Sunday night.
Monday morning we woke, went down to get some breakfast (O, I haven't talked about how great the free breakfast at the hotel was–it was awesome!) and decided we needed to make one more pool trip before heading home.  I didn't go this time (I wanted to stay dry), but I did get a couple awesome photos of the girls jumping into the pool!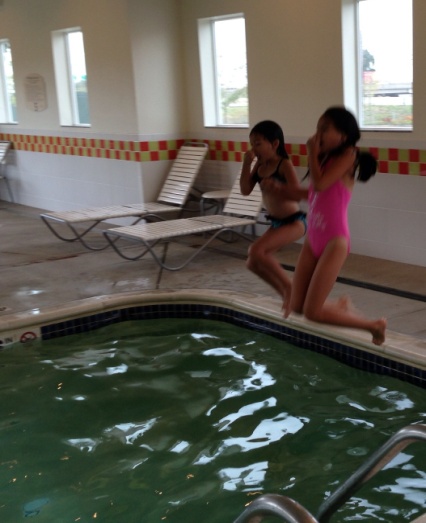 My daughters got everything they wanted and paid for all but $4 dollars of it with their own hard-earned money! I assumed I was teaching my girls about money management when in fact they taught their mom a little something too.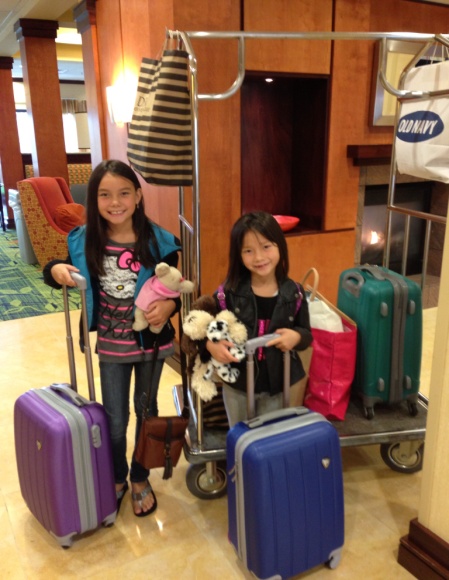 All in all, it was a very successful, fun trip for my little family!