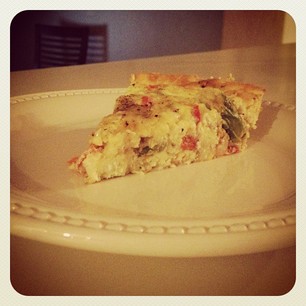 Between her work at AIM and teaching at the National Personal Training Institute of Seattle, our trainer and nutrition coach Kindra works six days a week. Her day off is Sunday, and has become her ritual, Sunday mornings are all about two things (well, three if you count coffee, but with Kindra every morning is about coffee): sleeping in and eating well.
Usually, Sunday morning's meal is both planned out and much-anticipated, groceries ordered ahead of time, kitchen thoroughly cleaned the night before, recipe pinned to the front of the fridge or book-marked on the Kindle. Today? Not so much. So when the queen of muscles and mascara awoke hungry (as always) and without a plan, there was only one thing to do… get creative. The result? Something she's calling "Kitchen Sink Quiche." The good news? It was absolutely awesome. The bad news? If you don't just happen to have 6 ounces of leftover grilled Copper River Salmon in the fridge, the prep-work could take awhile. Allow us to reassure you — she swears up and down that nearly any wait is worth it. For those of you who are among the culinary curious, her process follows.
Eat up, enjoy, and as always, let us know what you think if you give this a whirl.
Step one: Grab a clean, 9″ glass pie plate and set it on the counter. Stare at it, groggy and bemused, and wonder aloud about what's for breakfast. Have a long drink of coffee.
Step two: Check the cabinet for a can of crab. Discovering one left, exclaim "Eureeka," while fetching the can opener. Rinse and drain the crab in a wire colander. Once pressed dry, scatter the crab in the pie plate. Have another long drink of coffee.
Step three: Determining that's nowhere near enough protein, add to the canned crab the leftovers from last night's grilled Copper River Salmon, approximately 6 ounces. Have two long drinks of coffee, refilling if necessary, while pondering various vegetable combinations.
Step four: Add 2T ghee to a sauté pan, and turn the heat to a moderately high setting. Add to the heating butter one half red onion, diced, one half red bell pepper, also diced, two cloves of garlic, minced, and five stalks of asparagus, cut into one-inch pieces. Sautee vegetables until the onions are translucent — all the while, sipping coffee.
Step five: Just prior to removing the vegetables from the heat, stir in 1t kosher salt, 1/2 t freshly ground black pepper, 3/4 t Old Bay seasoning, and 1/2 t dried basil. Stir until fragrant, and then scatter over the seafood in the pie plate.
Step six: Top the seafood and vegetables with 2 ounces of shredded Beecher's flagship cheese and 4 ounces of shredded cheddar-jack blend cheese. Practice your "Nooooo, I have no idea what happened to the good cheese" face and hide the wrapper. Drink more coffee. A decaffeinated actor is no bueno.
Step seven: In a small bowl whisk together four whole eggs, 2 T sour cream, and 1 cup of heavy whipping cream. Once combined, pour over the rest of the ingredients and delight at your own ingenuity. Top with a sprinkle of freshly ground black pepper and celebrate with a solid sip of coffee.
Step eight: Bake for 35 to 40 minutes at 375 degrees. Cardio spin bike intervals are optional while the quiche is baking.
Step nine: Forget about letting this baby cool, as you're now starving. Serve piping hot with, you guessed it, a good cup of coffee. Newspaper, CNN, good book, or other Sunday favorites optional.
(Step ten: Leftovers were just as good for lunch, with a salad of red leaf, red onion, bell pepper, slivered almonds and blue cheese – just in case anyone was wondering.)