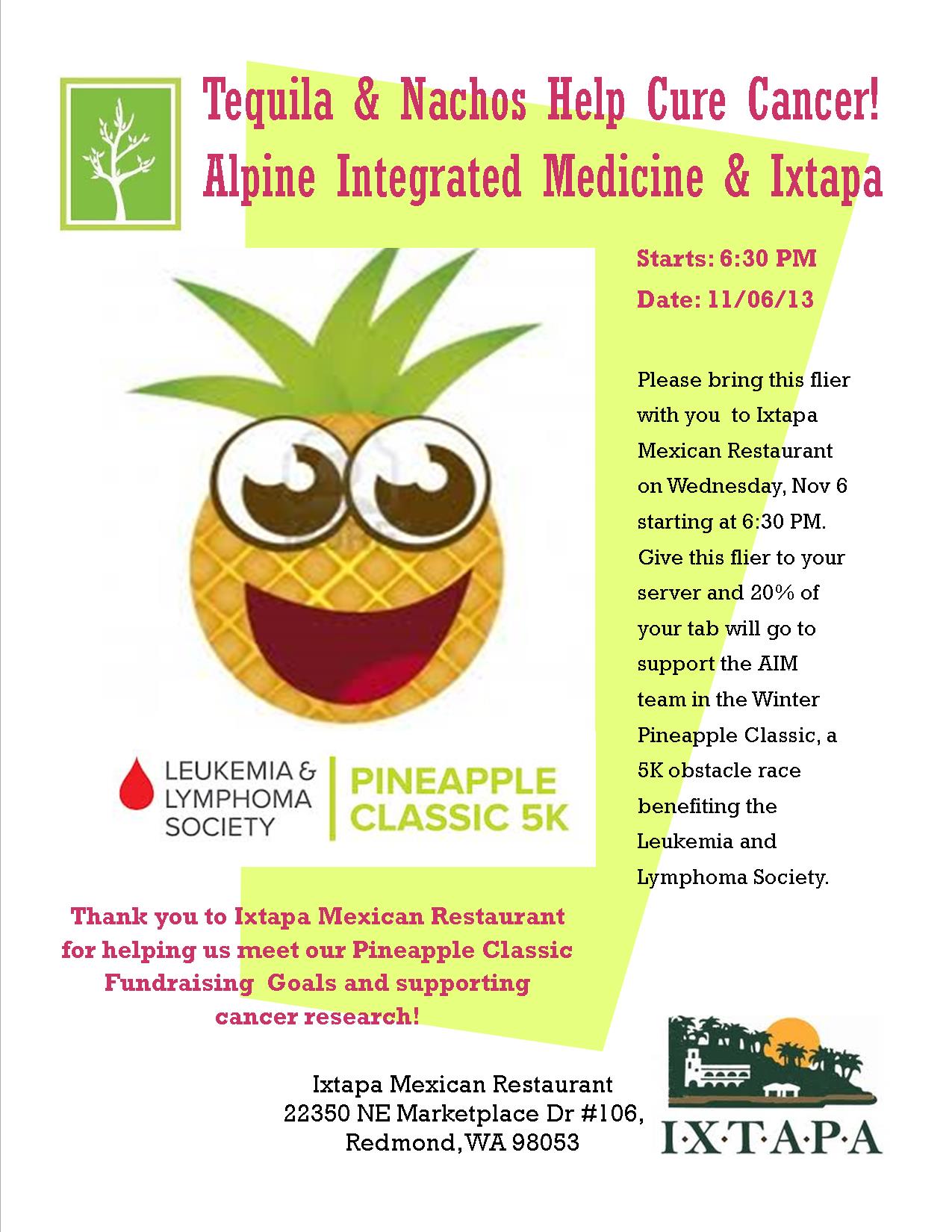 The second-scariest moment of my life was watching my then husband collapse during a training run for the Winter Pineapple Classic. That moment was topped just days later when doctors identified the reason why, and he was diagnosed with a rare form of stomach cancer.
September 2007 found my former husband and I both on the hefty side. He was a stressed out mortgage professional facing the early collapse of the housing and financial markets. I was a stressed out attorney-turned stay-at-home-mom cum spec housing developer up to my elbows in teenagers and subcontractors. Regardless, both Drew and I followed the same recipe for managing tension: red wine, brie and chocolate. The results were predictable. We were chubby.
A month prior, my brother had invited the two of us to join him and his wife in running a 5k obstacle race called the Winter Pineapple Classic. Neither my husband nor I were runners, but it sounded like fun – 3.1 miles of climbing walls and nets and barricades to be navigated by teams who at all times had to carry a pineapple between them. The luau at the finish line sealed the deal. Beer and mud? We were in. The race was one part fun, and two parts motivation for him and me to get moving again (and hopefully lose a few pounds in the process). The fact that the proceeds of the race went to benefit the Leukemia and Lymphoma Society was gravy. A good time for a good cause.
Everything changed the day we went for that training run. Initially, we thought he might be having a heart attack, although at 37 that too seemed incomprehensible. Tests on his cardiac function, however, proved fine. What blood work did reveal was severe anemia. He was bleeding internally, we just didn't know where. An endoscopy the next day discovered the 22 cm mass in the wall of his stomach, eventually typed a GI Stromal Tumor or GIST.
As we would shortly learn, GISTs are rare, occurring (on average) only 4100 times each year in the United States. The good news is that his tumor had behaved uncharacteristically, eating through the wall of his stomach and causing the internal bleed. Typically, these tumors spread the other direction, invading nearby organs and remaining asymptomatic until the cancer had silently impacted nearly every abdominal organ, resulting, most of the time, in death. The 5 year survival rate of a patient with 22 cm GIST was (for this reason) just 2%.
News doesn't get much worse than that, but there were two reasons for hope. First, a CT revealed that while the tumor was pressing on his liver, pancreas, small intestine, spleen, and gallbladder, the tumor had not yet managed to penetrate them. Second, there was a form of drug therapy that was getting good results. The drug was called Gleevec, and it had originally been developed for treatment of leukemia. What was unique about Gleevec was the way that it worked, which was to shut one of the pathways through which cancer can spread in the body. At the time, scientists had identified as many as seven possible pathways through which cancer could spread, but with Gleevec they could close one of those seven doors. The hope was that, in time, doctors could learn from the successes of Gleevec how to close the other six doors as well. This research is underway today.
At the advice of our doctors, Drew pursued treatment with Gleevec for three months prior to the removal of the tumor, and for one year after as well. In the three months of pre-surgical treatment, Drew responded spectacularly, with the size of the tumor shrinking by half. Once the cancer was out, he continued on Gleevec therapy to reduce the probability of the cancer's return. There isn't much to say for this period of our life aside from, "it sucked." The side effects were hard for him, and the process was excruciating for the entire family, myself and our teenage son included. Ultimately, our marriage was a casualty. But Drew survived, and of the two, the one that lived is the one that matters most.
This is why I support cancer research, and specifically, the work of the Leukemia and Lymphoma Society.  Thanks to Gleevec, a drug developed to help treat blood cancer, my now ex-husband is a stomach cancer survivor.  A few weeks ago, he traveled to Pullman for Dad's weekend with our son at WSU – six years to the month after his initial diagnosis. Without Gleevec treatment, his chances of getting to Dad's weekend were in the single digits. Because of Gleevec, he was there. As a mother, there are no words to describe what that means to me, and no way to put a price tag on that outcome.
The work of the Leukemia and Lymphoma Society, therefore, isn't just about benefitting the lives of patients and families of patients with Leukemia and Lymphoma, although that is work they do exceptionally well. At the local level alone, the Washington chapter provides patient services to 1100 people annually, and financial assistance to over 800. More than that, while that is truly wonderful, research supported by LLS includes the work that I believe will ultimately lead to a cure. Again, just on the local level, the Washington chapter supports 7 full-time cancer researchers – doctors and scientists who are making discoveries like Gleevec and improving outcomes for families like mine.
It's been six years since I first began training for the Washington Pineapple Classic. This year, on November 9, with my amazing coworkers from Alpine Integrated Medicine, I will finally get to run the course. It's been a long time coming, and I am ready for both the experience and the closure. We were training for this Leukemia and Lymphoma fundraiser when Drew was diagnosed with cancer, and it was a Leukemia drug that saved his life. Completing the race feels a little bit like finally closing a door of my own. Plus there is still the beer, the mud, and a chance to kick cancer where it counts.  At it turns out, 3 of the 9 AIM employees have been affected by blood cancer or blood cancer research, so the decision to take part was a no-brainer for all of us.
As an office we have elected to sponsor two teams, one that will run the 5k and one that will walk it. We have invited our friends and family to join us, and even at this late date, it is not too late. Participants can register to run with team "AIM to Run It," or walk with team "AIM to Walk It," using this link: https://secure3.convio.net/llswa/site/TRR/Events/PineappleClassic;jsessionid=84AD984AE9B975EA4986194D282A163B.app337b?pg=tfind&fr_id=1370&fr_tm_opt=new. Registration is just $50, which includes the post-race luau. Individuals participating also have a minimum $50 fundraising obligation. For friends and family who don't wish to participate but who would like to join us at the finish line, $5 tickets are also available to take part in the luau after. (Use the link supplied above.) And for those who can't join us in person but who wish to support our office as we raise funds to combat cancers of all kinds, donations can be made here: http://llswa.convio.net/site/TR/Events/PineappleClassic?fr_id=1370&pg=pfind.
To make a donation, search by name for any of us who are participating: Kindra Reid, Nichole Santoro, Jessica Larsen, Kelly Montgomery and Christopher Rentz. We thank you in advance, along with our clients Chris, who donated $150, Lise and Lars, who donated $80, Chris and Tara, who donated $50, and the countless others who donated 10% of their supplement purchase to the LLS during Naturopathic Medicine Week earlier this month. In advance, we thank Ixtapa restaurant in Redmond Ridge. Together, we will be holding a fundraiser for the LLS and the Winter Pineapple Classic on Wednesday, November 6. Join us starting at 6:30 pm at 22350 NE Marketplace Dr #106, Redmond, WA 98053. Bring with you the "Take a Shot at Cancer," flier (the image that accompanies this blog post and that went out to our client base via email), and 20% of your tab will be donated to the cause. (Who knew that tequila could help cure cancer?)We will be there, we would love to see you. Stay tuned for post-race photos on our blog and FB.
For additional information about our office and our participation in the Winter Pineapple Classic, visit our website at www.alpineintegratedmedicine.com, or give us a call at 425-949-5961.