Warning: the PDF attached to this post is a fairly dense research study…dry but really illuminating.
The question of "what is a Naturopath?" is one of the most commonly asked in our profession, and there is no wonder why.  Between what we see on TV, insurance companies, misinformation, and superstition, Naturopathic medicine is an enigma to most people, even as the wave of natural health and freedom from pharmaceuticals grows nation-wide.  In this post, I wanted to share a study done by the University of Wisconsin that aims to answer that all too common question.
Please click the link below for the entire research study:
ND as primary care, wisconsin research study
Here's a short excerpt:
Naturopathy is a distinct type of primary care medicine that blends age-old healing traditions with scientific advances and current research. It is guided by a unique set of principles that recognize the body's innate healing capacity, emphasize disease prevention, and encourage individual responsibility to obtain optimal health.  The naturopathic physician (ND) strives to thoroughly understand each patient's condition, and views symptoms as the body's means of communicating an underlying imbalance. Treatments address the patient's underlying condition, rather than individual presenting symptoms. Modalities utilized by NDs include diet and clinical nutrition, behavioral change, hydrotherapy, homeopathy, botanical medicine, physical medicine, pharmaceuticals, and minor surgery.   Naturopathy can be traced back to the European "nature cure," practiced in the nineteenth-century, which was a system for treating disease with natural modalities such as water, fresh air, diet, and herbs. In the early twentieth-century, naturopathy developed in the U.S. and Canada, combining nature cure, homeopathy, spinal manipulation and other therapies.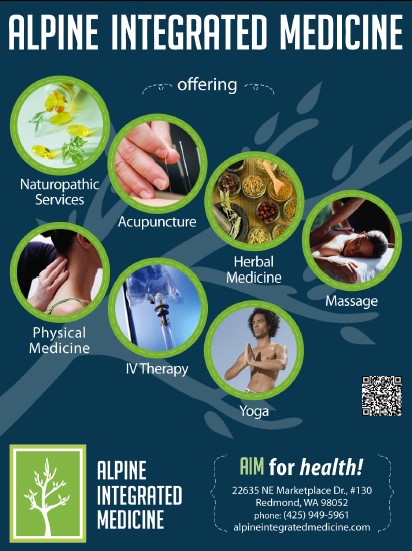 To learn more about all the Natural medicine has to offer you and your family, check out our website, or, better yet, call and set up a free consult.
Here's to your health!